The following men have been identified as casualties of the Great War and World War Two. They were either parishioners of St. Patrick's School Chapel / Holy Spirit Church, Heckmondwike, or the Anglo-Belgian Chapel / St. Paul of the Cross Chapel of Ease, Cleckheaton, or relatives of men who lost their lives in these wars.
With gratitude we prayerfully remember them and stand humbled by the ultimate sacrifice they paid.
"These were His servants, in His steps they trod,
Following through death the martyr'd Son of God.
Victor He rose; victorious too shall rise
They who have drunk His cup of Sacrifice.
O risen Lord, O Shepherd of our Dead,
Whose Cross has bought them and whose Staff has led –
In glorious hope their proud and sorrowing land
Commits her children to Thy gracious hand."
(O Valiant Hearts J.S. Arkwright 1872 – 1954)
The Great War, 1914 – 1918
1st Class Stoker Francis (Frank) Duddy
SS/104153
(B.23.12.1882 +01.11.1914)
Royal Navy H.M.S. "Good Hope"
(Commemorated on the Portsmouth Naval Memorial, Portsmouth
James Alfred Morton
(B. 31.10.1876 +02.12.1914)
A civilian labourer killed in the White Lee Chemical Works Explosion
(Buried Heckmondwike Cemetery)
Private William Donnelly
(B. 27.03.1870 +03.05.1915)
11659, Duke of Wellington's West Riding Regiment
(Buried Heckmondwike Cemetery)
Private Thomas Hirst
(B. 02.10.1886 +08.07+1915)
16839, 2nd Bn., Northumberland Fusiliers
(Buried Ridge Wood Military Cemetery, Belgium)
Private John Hegarty
(B. 31.07.1895 +04.10.1915)
16938, 2nd Bn., Northumberland Fusiliers
(Buried Chocques Military Cemetery, France)
Private Sam Sykes
(B. 17.03.1891 +28.01.1916)
11371, 6th Bn., King's Own Yorkshire Light Infantry
(Buried New Irish Farm Cemetery, West-Vlaanderen, Belgium)
Private Edward Joseph Navin
(B.13.06.1892 +26.04.1916)
25029, 10th Bn., Cheshire Regiment
(Commemorated on the Loos Memorial, Dud Corner Cemetery, Loos-en-Gohelle, France)
Private James Broderick
(B.02.10.1894 +26.06.1916)
6120, 12th Bn., Northumberland Fusiliers
(Buried Dartmoor Cemetery, Becordel-Becourt, France)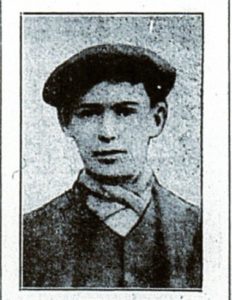 Private Michael Broady
(B.29.07.1897 +01.07.1916)
16/1628, 16th Bn., West Yorkshire Regiment (Prince of Wales's Own)
(Commemorated on the Thiepval Memorial, France)
Private John Thomas McMahon
(B.06.12.1880 +01.07.1916)
16/1509, 16th Bn., West Yorkshire Regiment (Prince of Wales's Own)
(Commemorated on the Thiepval Memorial, France)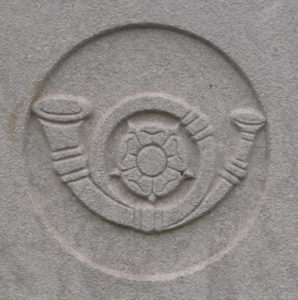 Private James John Finnigan
(B.06.08.1892 +01.07.1916)
12/1474, 12th Bn., King's Own Yorkshire Light Infantry
(Buried Queens Cemetery, Puisieux, France)
Lance-Corporal Thomas Mosley
(B.05.08.1890 +01.07.1916)
5542, 1st/ 5th Bn., West Yorkshire Regiment (Prince of Wales's Own)
(Buried Authuille Military Cemetery, France)
Private James Walker Nelson
(B.27.10.1886 +07.07.1916)
3955, 1st/4th Bn., King's Own Yorkshire Light Infantry
(Commemorated on the Thiepval Memorial, France)
Private Patrick Lang
(B.07.01.1897 +15.07.1916)
16/1626, 12th Bn., West Yorkshire Regiment (Prince of Wales's Own)
(Commemorated on the Thiepval Memorial, France)
Private Richard Walford
(B.17.05.1893 +03.09.1916)
5539,1st/7th Bn., Duke of Wellington's (West Riding Regiment)
(Commemorated on the Thiepval Memorial, France)
Private James Edward Broady
(B.05.10.1894 +01.11.1916)
5623, 1st/5th Bn., King's Own Yorkshire Light Infantry
(Buried Hebuterne Military Cemetery, France)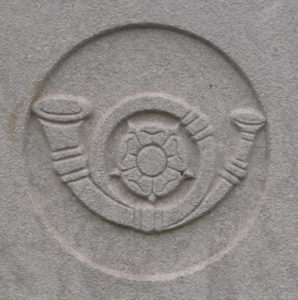 Private Anthony Walsh
(B.27.07.1887 +14.04.1917)
17213, 2nd Bn., King's Own Yorkshire Light Infantry
(Commemorated on the Thiepval Memorial, France)
Private Thomas Walsh
(B.03.02.1886 +03.05.1917)
306532, 2nd/7th Bn., Duke of Wellington's (West Riding Regiment)
(Buried Ecoust Military Cemetery, Ecoust-St. Mein, France)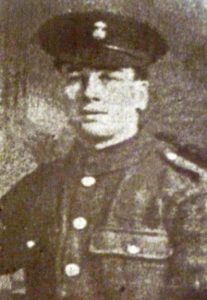 Corporal John Thomas Navin
(B.05.03.1896 +02.09.1917)
20652, 14th Bn., Royal Welch (Welsh) Fusiliers
(Commemorated on the Tyne Cot Memorial, Zonnebeke, Belgium)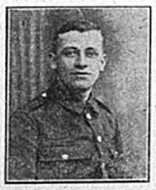 Lance-Serjeant Thomas Bardon Doran
(B.12.01.1891 +20.09.1917)
17687, 10th Bn., Northumberland Fusiliers
(Commemorated on the Tyne Cot Memorial, Zonnebeke, Belgium)
Private Willie Coates
(B.30.04.1894 +01.10.1917)
40092, 9th Bn., York & Lancaster Regiment
(Buried Hooge Crater Cemetery, Belgium)
Private Thomas Edward Naven
(B.11.02.1890 +03.10.1917)
291519 (formerly 4317), 1st/7th Bn. Cheshire Regiment
(Buried Baghdad (North Gate) War Cemetery, Iraq)
Private Joseph J. Duddy
(B.20.05.1885 +04.12.1917)
7550, 'C' Company, 1st Battalion Cheshire Regiment (15th Brigade, 5th Division)
(Buried Niederzwehren Cemetery, Kassel, Germany)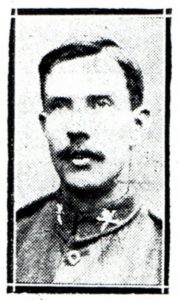 Lance Corporal Thomas Keane MM
(B.17.03.1887 +30.03.1918)
1115, 4th Bn., Machine Gun Guards
(Buried Bucquoy Road Cemetery, Ficheux, France)
Private Dennis Duddy
(B.29.06.1880 +28.04.1918)
14558, 10th Bn., Cheshire Regiment
(Buried Boulogne Eastern Cemetery, France)
Private John Willian Callaghan
(B.07.02.1897 +20.07.1918)
200274, 2nd/4th Bn., King's Own Yorkshire Light Infantry
(Buried Courmas British Cemetery, Marne, France)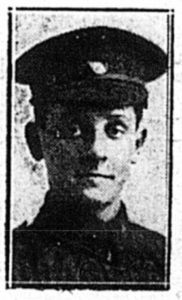 Private Edgar Bryan
(B.11.03.1896 +18.09.1918)
1127, 12th Bn., King's Own Yorkshire Light Infantry
(Buried Pont-D'achelles Military Cemetery, Nieppe, France)
Private Robert Farrell MM
(B.25.09.1897 +19.11.1918)
241030, 5th Bn., Duke of Wellington's (West Riding Regiment) & 186 Trench Mortar Battery
(Buried St. Sever Cemetery Extension, Rouen, France)
World War II, 1939 – 1945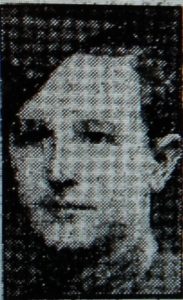 Lieutenant Wilfrid Trevor Taylor
( +12.04.43)
200654, 11 L. of C. Sigs. Royal Corps of Signals
(Buried War Cemetery, Annaba, Algeria)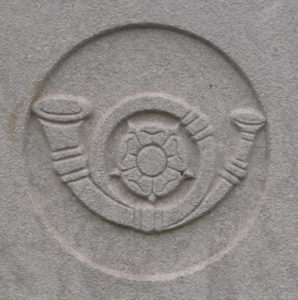 Corporal John James Quinn
(+22.04.1943)
4699336, 2/4th Bn., King's Own Yorkshire Light Infantry
(Buried Medjez-El-Bab War Cemetery, Tunisia)
Private John Christopher Wall
(B.04.01.1921 +06.05.1943)
4627623, 1st Bn., Duke of Wellington's (West Yorkshire Regiment)
(Buried Massicault War Cemetery, Tunisia)
Signalman Jack Adamthwaite
(B.20.07.1906 +03.12.1943)
2389896, 56th Div. Sigs., Royal Corps of Signals
(Buried Cassino War Cemetery, Italy)
Sergeant (Air Bomber) Norman Fisher
(B.09.04.1921 +23.01.1944)
1451885 Royal Air Force Volunteer Reserve
(Buried Cleckheaton New Cemetery)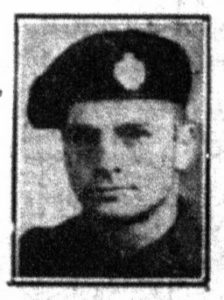 Trooper Walter H. Pollard
(B.27.08.1917 +11.11.1944)
4624180 / 145
(8th Bn. The Duke of Wellington's Regiment) Regiment,
Royal Armoured Corps
(Buried Cesena War Cemetery, Italy)